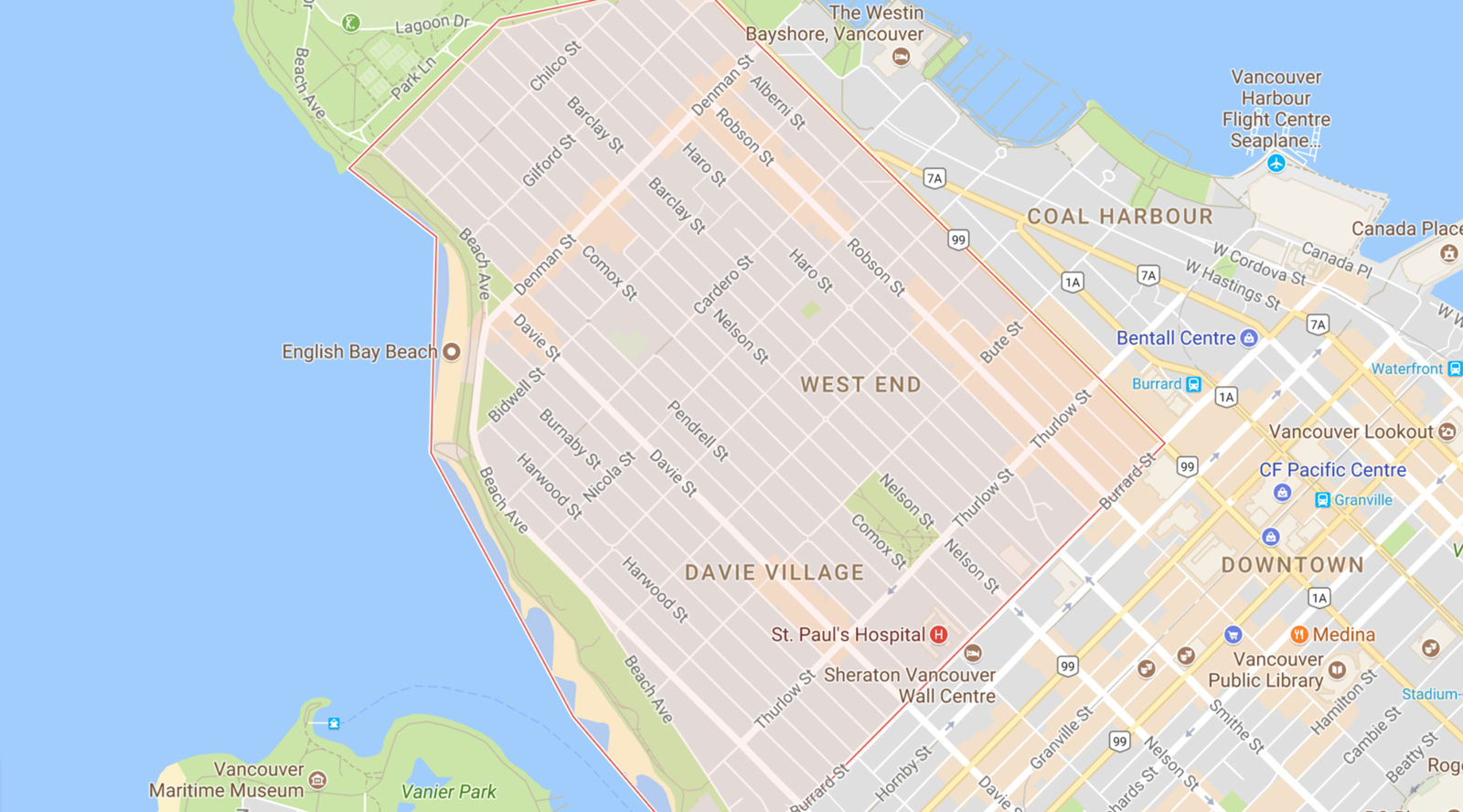 The West End of Vancouver, British Columbia, Canada is on the downtown peninsula neighbouring Stanley Park and the areas of Yaletown, Coal Harbour and the downtown financial and central business districts.

The definition of the "official neighbourhood" of the West End, according to the city, is the area west of Burrard Street, east of Denman Street, and south of West Georgia Street. Historically the term originated and remains used by Vancouverites to refer to everything from Burrard Street to Stanley Park, including the Stanley Park Neighbourhood west of Denman Street and the Coal Harbour Neighbourhood. 
The West End is also home to Vancouver's gay village, called Davie Village, centred primarily on Davie Street between Burrard and Bute, with a substantial gay population living throughout the West End.
Numerous parks and beaches can be found throughout the West End including Alexandra Park, Cardero Park, Nelson Park, Stanley Park and Sunset Beach. These parks range in size from 0.22 hectares (Morton Park) to over 406 hectare (Stanley Park). A portion of the Stanley Park Seawall promenade runs along the waterfront from Burrard Bridge to Ceperly Park.

The area is also known for English Bay Beach, a large park on English Bay which is thronged during the annual Celebration of Light fireworks display each year mid-summer. St. Paul's Hospital, one of Vancouver's largest and oldest health facilities, sits at the neighbourhood's eastern edge on Burrard Street.
The West End has two elementary schools: Lord Roberts & Lord Roberts Annex. The neighbourhood is also served by one high school, King George Secondary.
Contact Tim to discuss which building is right for you.