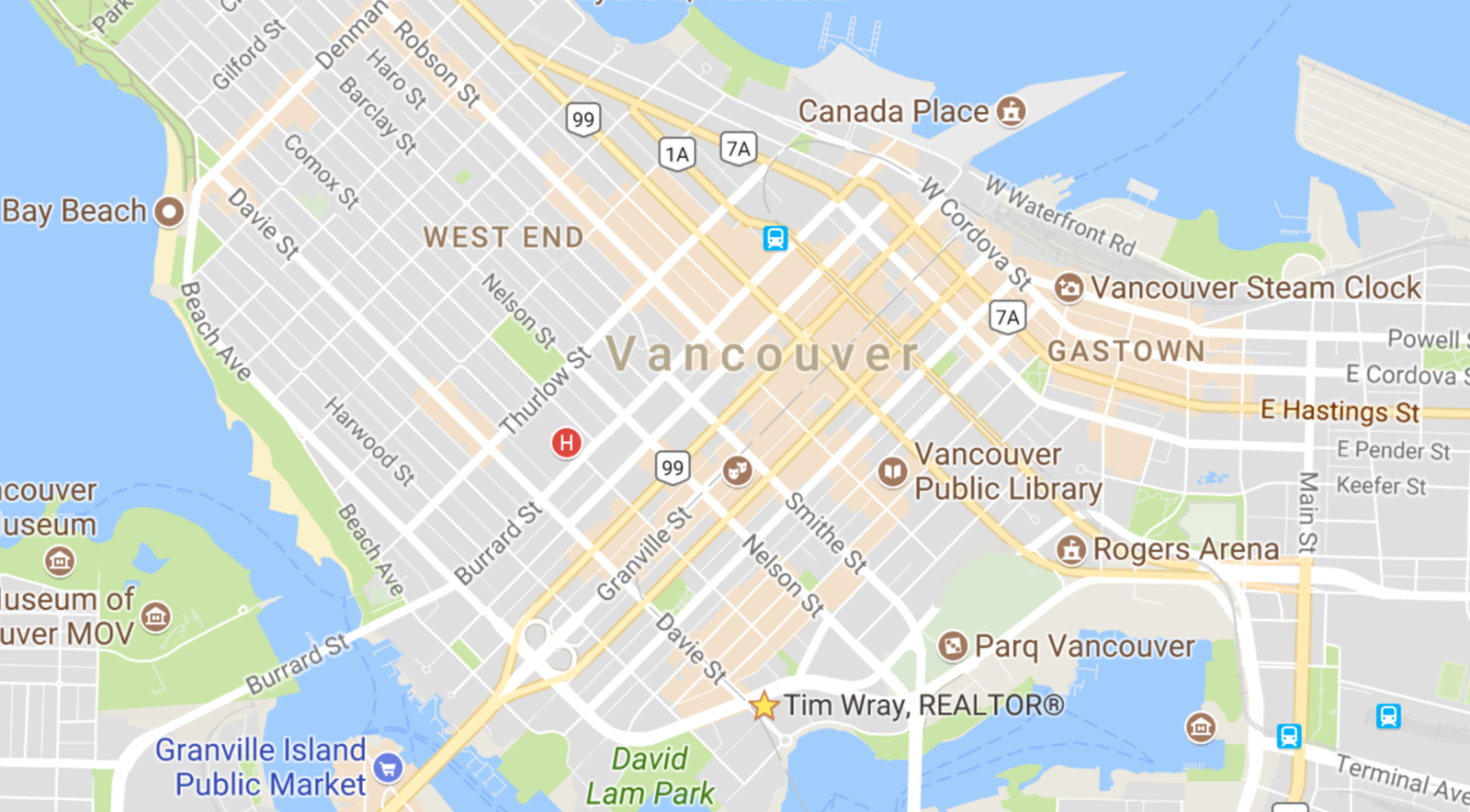 Downtown Vancouver is the southeastern portion of the peninsula in the north-central part of Vancouver proper. It is the business, commercial, cultural, financial, government, and entertainment centre of the city and the Metro Vancouver lower mainland region.
The downtown area is generally considered to be bounded by Burrard Inlet to the north, Stanley Park and the West End to the west, False Creek to the south, and the Downtown Eastside to the east. Most sources include the full downtown peninsula (adding the West End neighbourhood and Stanley Park) as downtown Vancouver, but the City of Vancouver defines them as separate neighbourhoods.
Besides the readily identifiable office towers of the financial and central business districts, Downtown Vancouver also includes residential neighbourhoods in the form of high-rise apartment and condominiums, in Yaletown and Coal Harbour. Other downtown neighbourhoods include the Granville Mall and Entertainment District, Downtown's South, Gastown, Japantown, and Chinatown.
The presence of water on three sides limits access to downtown Vancouver. There are four major bridges: the Lions Gate Bridge, connecting to the North Shore municipalities and the Trans Canada Highway, the Burrard Street Bridge, Cambie Street Bridge, and Granville Street Bridge provides access to the commercial and residential areas south of False Creek.
The historic Waterfront Station is a major transit hub for the downtown core. There are six rapid transit subway stations in downtown Vancouver. The stations are found on three SkyTrain lines, Expo Line, Millennium Line, and Canada Line. 
SeaBus is a passenger-only ferry that connects to the North Shore in 10–12 minutes. Near Waterfront Station, terminals are available for float planes and helicopters.
The Downtown core of Vancouver is diverse and represents a city with has a rich history and an eye on the future. Amongst the large number of notable residential buildings are is 
Jameson House
 (with its state of the art automated vehicle parking system), super high-end 
Private Residences at the Hotel Georgia
 and the investor's favourite 
501 Building
.
Contact Tim to discuss which building is right for you.