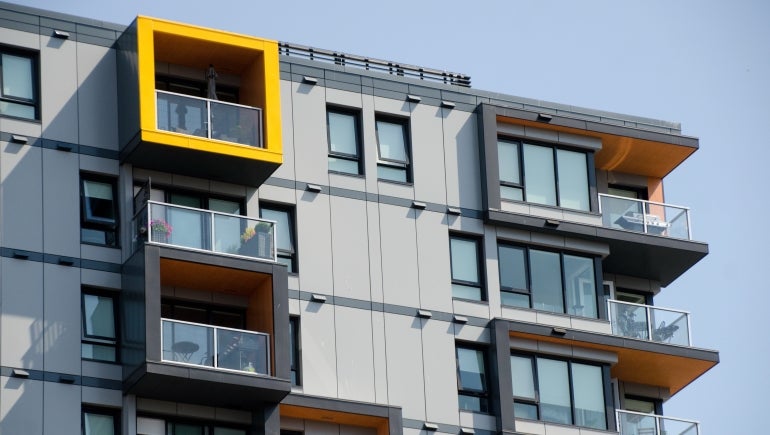 One third of BC residents live in a strata home, whether it's a condo, townhouse, or multi-plex unit.
Strata homes are usually more affordable than their single-family counterparts. They can also lessen the burdens of home ownership, with strata residents sharing responsibilities for things like maintenance, snow shoveling, and security. And while these homes tend to be smaller, they may also have access to amenities like a pool or gym.
If you're looking to own a strata home, make sure you're familiar with related terminology. Here's a guide to some of those terms.
Strata
In a strata development, the parts created for individual ownership are called "strata lots." Informally, these lots are referred to as a "strata unit" or a "condominium." The rest of the development consists of common property. Strata housing can include: condos, townhouses, and multiplexes.
Strata corporation
Strata owners own their individual strata lots and together own the common property as a strata corporation.
The law recognizes the need for an executive body to carry out the duties of the strata corporation and to oversee the corporation's affairs between general meetings of the eligible voters. This executive body is called the strata council. It's effectively a board of directors.

The strata council's role is to:

- act as the managing body for the strata corporation,
- make daily decisions that enable the strata corporation to operate smoothly, and
- enforce bylaws and rules.

Maintenance fee
To pay for shared common expenses such as insurance, gardening, cleaning, snow removal, and repair and maintenance, strata owners must pay maintenance fees on a regular basis - usually each month. 
Special levies
In addition to strata fees, sometimes owners will be required to pay extra for matters affecting the strata corporation, including the repair and maintenance of common property and assets like replacing the roof or upgrading an elevator. Special levies aren't part of the operating budget and need to be voted on and approved by the owners.
Contingency fund
There are two funds in a strata corporation: the operating fund, which is for common expenses that occur once a year or more often; and the contingency reserve fund for common expenses that usually occur less than once a year or are unexpected.
Depreciation report
A depreciation report identifies the common property, common assets and those parts of a strata lot the strata corporation by bylaw must repair and maintain. The depreciation report will determine:
- What assets a strata corporation owns - an inventory
- The assets' conditions - evaluation
- When items need to be replaced - the anticipated maintenance, repair and replacement
- How much money the strata corporation currently has - contingency reserve report
- What it's likely to cost for future replacement - a description of the factors and assumptions in projecting costs
- How the strata corporation can pay for the costs - three cash‐flow funding models projecting 30-year replacement periods
Whether you are looking to buy, sell or learn more about the market changes, call / text me on (604) 781-5692 or send an email to tim@timwray.ca to get the answers you need.
My business grows by building trust and strong client-focused relationships. I would welcome the opportunity to help you achieve your real estate goals.