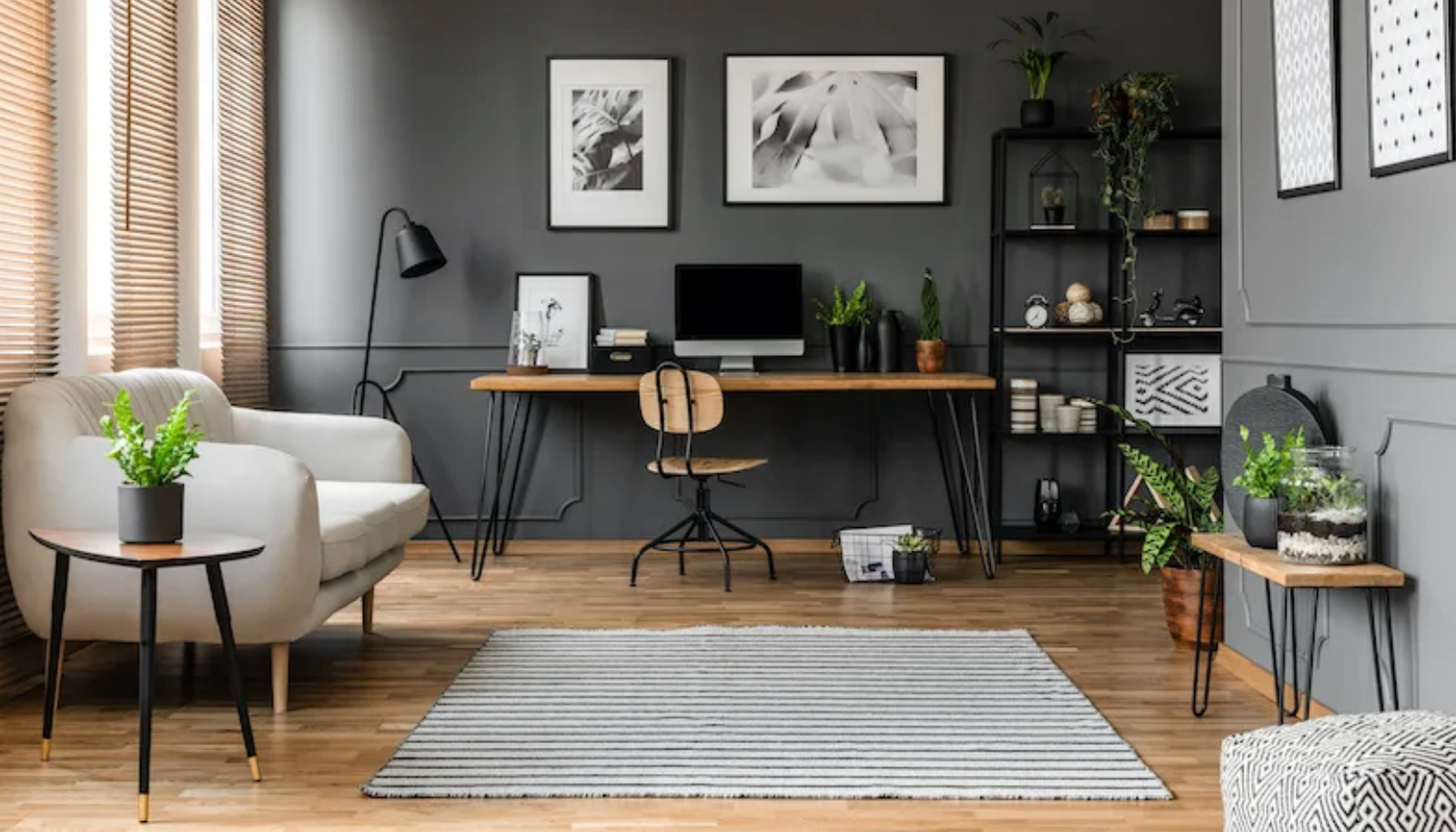 Vancouver housing market to continue as a seller's market in 2021, prices expected to rise 4%
Vancouver real estate is expected to continue as a seller's market in 2021. A healthy supply is anticipated for the downtown core and low interest rates will continue to impact housing activity. Buyers are anticipated to seek larger properties in suburban areas, rather than buying in the downtown core in 2021. 
The average sales price in Vancouver increased by 11.4% to $1,270,000 in 2020 (Jan. 1 – Oct. 31), compared to $1,140,000 in 2019 (Jan. 1 – Dec. 31). The RE/MAX Outlook for Vancouver real estate in 2021 is an increase of 4% in average price to approximately $1,320,800.

Who's Driving Demand for Vancouver Real Estate?
Move-up buyers are currently driving demand in the Vancouver real estate market, which is expected to continue into 2021. Single-detached homes are the most popular property type with move-up buyers.
First-time homebuyers in Vancouver are typically single homebuyers looking for condominiums. These properties range in price from $400,000 to $500,00. Condominiums that are situated outside of the downtown core are drawing more first-time homebuyers than the condos located in the downtown core. It is expected to be a bit more difficult for first-time buyers to enter the market in 2021 due to rising prices for condominiums in Vancouver.
Move-up buyers in the Vancouver housing market are typically young couples and families. Move-up buyers have encountered some difficulties when looking to purchase a new home in 2020, as it is a strong seller's market in Vancouver currently. In many cases there are multiple offers, up to 10 in some cases, which is always a struggle for move-up buyers looking to purchase.
The condominium market in Vancouver is most popular with single homebuyers. The average price for a condo in Vancouver is $802,591. Overall, the Vancouver condo market has not been as strong, especially in the downtown core. This is due to the demand for condos having been reduced, even since before COVID-19.
Vancouver's luxury market is currently driven by foreign buyers with a typical starting price for a luxury condo in Vancouver being approximately $2,000,000, while starting price for a luxury detached home is approximately $4,000,000. The demand for luxury home has increased in 2020, due to the interest rates being low. This is expected to continue into 2021, as long as rates remain low.
Vancouver's Hottest Neighbourhoods
Vancouver's top-selling neighbourhoods in 2020 were Kitsilano, Fairview and Mount Pleasant. The neighbourhoods are expected to remain popular in 2021 as they are well accessed neighbourhoods in great locations.
Vancouver New-Home Construction
Vancouver's new-home construction has been softer over the course of 2020, with it being stronger over the past 4 months, benefiting from the seller's market. New-construction homes in Vancouver are on the high end in terms of pricing. The new-construction market in Vancouver has been firming up over the past couple of months, so overall the housing market has been stronger. This is expected to continue into 2021.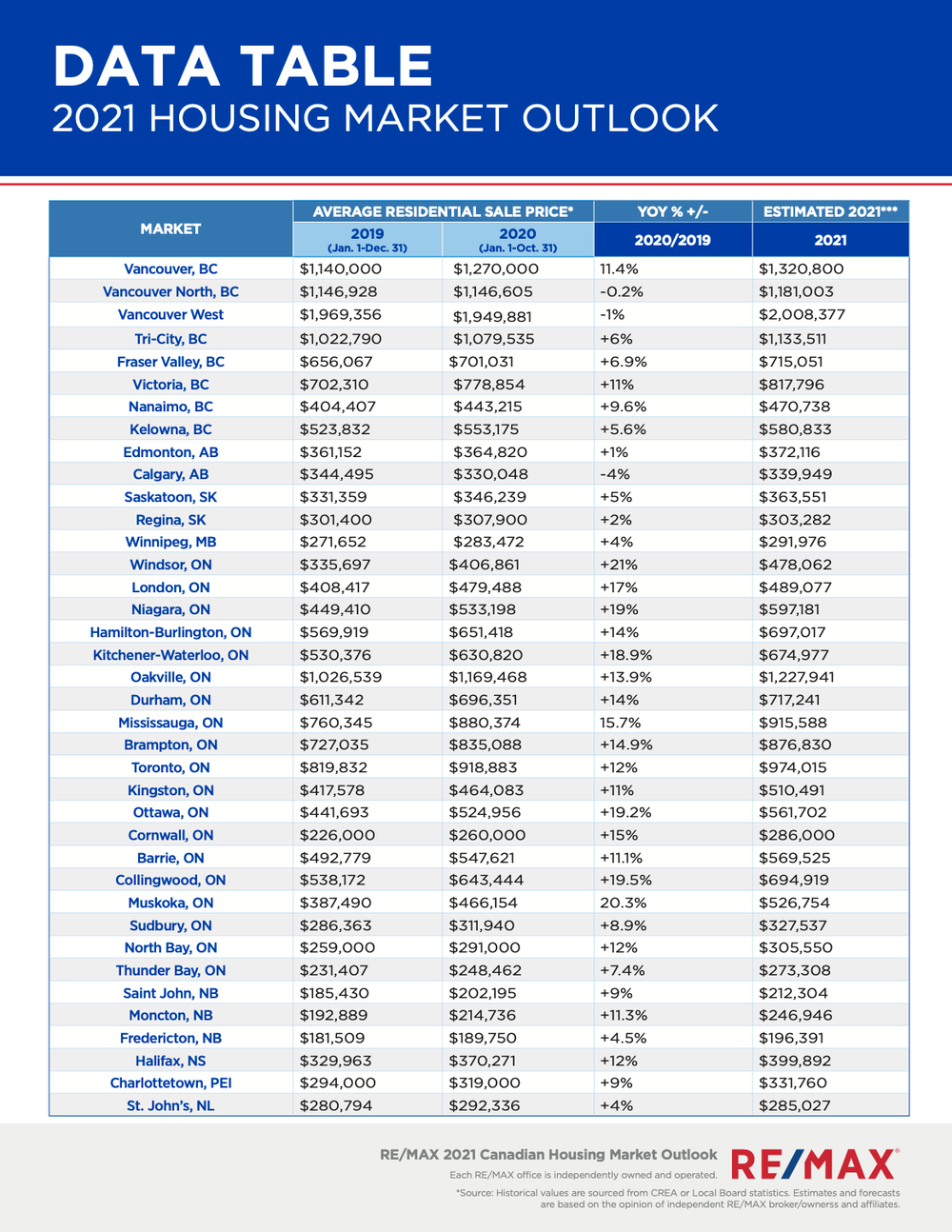 Canadian Housing Market in 2021
Canadians are on the move. RE/MAX isn't calling this an "exodus," but the re-location trend across the Canadian housing market is real, and it's just one focus of the RE/MAX 2021 Housing Market Outlook Report. RE/MAX Canada anticipates healthy housing price growth at the national level, with move-up and move-over buyers continuing to drive activity in many regions across the Canadian housing market. An ongoing and widespread housing supply shortage is likely to continue, presenting challenges for homebuyers and putting upward pressure on prices.
Due to these factors, the 2021 RE/MAX 2021 outlook for average residential prices is an estimate of +4% to +6% nation-wide. The chart here displays the regional break-down.
Additional report findings include:
- 35% of RE/MAX brokers indicate that "move-over" buyers from other cities and provinces will continue to spark market activity in 2021;
- 45% of RE/MAX brokers indicate that move-up buyers will likely be a primary driver of the housing market demand in 2021;
- Half of Canadians (53%) are confident that Canada's housing markets will remain steady in 2021;
- 52% of Canadians believe real estate will remain one of the best investment options in 2021.

"Despite the tragic impacts of the pandemic, our optimism in the strength of Canada's housing market has always remained," says Elton Ash, Regional Executive Vice President, RE/MAX of Western Canada. "While we've seen a significant shift in buyer preferences this year, we believe factors such as the supply issue, pent-up demand and historically lower interest rates will continue to fuel activity in 2021."

My business grows by building strong client-focused relationships. I would welcome the opportunity to answer any questions about this post or on the real estate market that you may have.
If you would like to find out how much your home is worth in today's market, to discuss listing your home or buying a new home, please contact me on (604) 781-5692 or via email - tim@timwray.ca