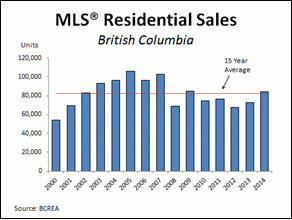 The British Columbia Real Estate Association (BCREA) reports that a total of 84,049 residential unit sales were recorded by the Multiple Listing Service® (MLS®) in 2014, up 15.2 per cent from 2013. After lagging for several years, BC home sales eclipsed the ten-year average of 82,000 units and the 15-year average of 83,600 units. Total sales dollar volume was $47.8 billion, an increase of 21.9 per cent from 2013. The average MLS® residential price in the province rose to $568,405, up 5.8 per cent from the previous year.
"BC experienced a significant increase in housing demand last year," said Cameron Muir, BCREA Chief Economist. "Not since the post-recession rebound of 2009 has the market posted such a turn around."
Prior to 2009, one would need to look back to the 2001-2002 period to find a stronger year-over-year percentage gain in BC home sales.
Home buyers were out in force in nearly every region of the province, with unit sales climbing 8 to 25 per cent in all BC real estate boards, except Kamloops where the number of transactions dipped nearly 5 per cent. "Stronger consumer demand not only pulled down the inventory of homes for sale, but also firmed market conditions throughout the province," added Muir.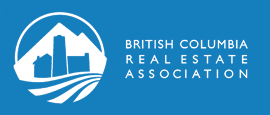 In December, BC residential sales dollar volume was up 18.2 per cent to $2.97 billion, compared to the same month last year. Residential unit sales were up 14.7 per cent to 4,426 units, while the average MLS® residential price was up 3 per cent at $585,718.
For the complete news release, including detailed statistics, 
click here
.
My business grows by building strong client focused relationships. I would welcome the opportunity to answer any questions about the real estate market that you may have.
If you would like to find out how much your home is worth in today's market, to discuss listing your home or buying a new home, please contact me on (604) 781-5692 or via email - tim@timwray.ca