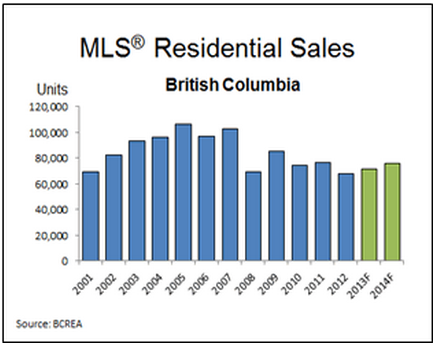 Housing Market Rebound to Extend Into 2014
Multiple Listing Service® (MLS®) residential sales in British Columbia are forecast to increase 6 per cent to 71,700 units this year. While home sales declined through most of 2012, consumer demand has picked up steam this year, culminating in a year-over-year increase of 43 per cent in September. However, rather than signalling a return of accelerated markets and frenetic home buyers, consumer demand is simply transitioning back to long term average levels. 

Sluggish economic growth and the anaemic pace of job creation so far this year is expected to curb growth in housing demand over the next few quarters. Nevertheless, there are encouraging signs that the economy is improving. Housing demand has gained momentum since early in the year,
pushing the provincial housing market back towards balanced conditions. The US housing market has also exhibited nascent signs of recovery, spurring BC lumber exports into double-digit growth. Real GDP growth in the province is forecast to increase from 1.6 per cent this year to 2.6 per cent in 2014. Stronger economic conditions next year are expected to push MLS® residential sales up a further 6.3 per cent to 76,200 units. 
Housing market conditions have improved in most regions of the province. Rising consumer demand and total active listings down nearly 9 per cent has either pulled or is pulling BC housing markets into balanced conditions, where neither buyers nor sellers have the advantage. With a stronger than expected pull-back of resale inventories, the average home price in the province is now forecast to rise by 4.3 per cent to $537,100 this year. As consumer demand continues on an upward trajectory, many potential home sellers that have been holding off for stronger market conditions will likely decide to put their homes on the market, keeping the market well supplied. The average MLS® residential price in the province is forecast to edge up 2.1 per cent to $548,200 in 2014.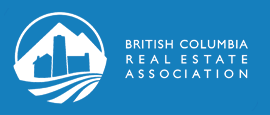 The housing stock is expected to expand less rapidly, with BC housing starts forecast to edge back 5 per cent to 26,100 units this year. Multiple starts are expected to be down 7.5 per cent and single detached starts remaining virtually unchanged with larger inventories causing some projects to be delayed. Housing starts are forecast to increase 3.8 per cent to 27,100 units next year.
For the complete news release, including detailed statistics, 
click here
.
My business grows by building strong client focused relationships. I would welcome the opportunity to answer any questions about the real estate market that you may have.
If you would like to find out how much your home is worth in today's market, to discuss listing your home or buying a new home, please contact me on 604.781.5692 or via email - tim@timwray.ca