On February 17th, 2012 the Government of BC announced the new housing transitional rules for returning to the PST. They recently published more information about transitioning from the Harmonized Sales Tax back to the Provincial Sales Tax and Goods and Services Tax at this link:  
www.hstinbc.ca/buying_goods/buying_a_home/new_home_purchases.
A summary is highlighted below for your information.
The housing transition rules help ensure when people buy a newly constructed home under the PST, whether built entirely under the HST, entirely under the PST, or partly under HST and partly under the PST, they will generally all pay a consistent and equitable amount of tax. The transition rules provide certainty for new-home construction and sales, particularly during the transition period.


B.C.'s portion of the HST will no longer apply to
newly built homes
where ownership and possession transfer on or after April 1, 2013.

While PST will not apply to the purchase of new homes, builders will once again pay seven per cent PST on their building materials. On average, about two per cent of the home's purchase price will again be embedded PST.

The temporary housing transition measures will be in place for two years, until March 31, 2015.


A new temporary housing transition tax of two per cent will generally apply to purchasers of new homes where at least 10 per cent of construction has begun before April 1, 2013, and ownership and possession transfer on or after that date.

The temporary housing transition tax and the temporary housing transition rebate for builders will be administered by the Canada Revenue Agency on behalf of B.C.

For newly built homes where construction begins before April 1, 2013, but ownership and possession transfer after, purchasers will not pay the seven per cent provincial portion of the HST. Instead, purchasers will pay a transitional provincial tax of two per cent on the full house price. This ensures equitable treatment among purchasers during the transition between HST and PST and will help mitigate distortive market behaviour. Eligible builders who have paid PST on at least some of the construction materials incorporated into the new housing will receive a transition rebate that helps to offset the PST and helps prevent double-taxation on homebuyers.

The act covering the temporary housing transition tax and the temporary housing transition rebate comes into effect on December 1, 2012.

Under a newly passed regulation, builders are required to provide specific tax-related information to purchasers to ensure a shared understanding of the taxes and rebates that are included in the contracted purchase price and that apply under the transition rules. Builders who fail to disclose the required information may incur a penalty.

Average amount of embedded sales tax in newly built homes under PST: two per cent.


Provincial portion of the HST paid by purchasers on an $850,000-newly built home after HST rebate: two per cent.
Temporary provincial transition tax rate on a newly built home during transition: two per cent.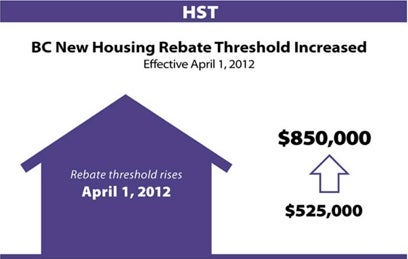 The B.C. new housing rebate threshold has been increased to $850,000, meaning more than 90 per cent of newly built homes may now be eligible for a provincial HST rebate of up to $42,500.
It is important to note that the HST

does not

apply to resale housing.
Raising the B.C. HST rebate threshold to $850,000 is expected to save purchasers about $60 million in 2012-13.
The maximum value rises to $42,500 from $26,250, a 60 per cent increase.
To help support workers and communities in B.C. that depend on residential recreational development, purchasers of new secondary vacation or recreational homes outside the Greater Vancouver and Capital regional districts priced up to $850,000 are now eligible to claim a provincial grant of up to $42,500 effective April 1, 2012. The Province is administering the grant for new secondary vacation and recreational homes.
It goes without saying that these changes are very complex (and still subject to change) and so may need further explanation from your lawyer or accountant.
As a Vancouver real estate consultant, my business grows by building strong client focussed relationships. I would welcome the opportunity to answer any questions about the real estate market.
If you would like to find out how much your home is worth in today's market, to discuss listing your home or buying a new home, please contact me on (604) 781-5692 or via email - tim@timwray.ca